Sentrics is pleased to announce our new release.  If you are currently using the Sentrics platform, these features will show up automatically.  We have made several improvements that make for a better user experience. Here are some of the highlights:
Map View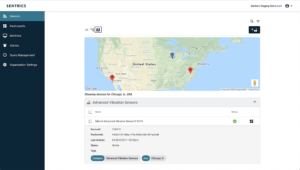 The new map view allows you to organize your sensors by geographical locations.  To have your sensors show up as markers on the map, you simply add a tag to a sensor with the geolocation value.  For example, if you want to see sensors in the Chicago, IL location, you would add a 'Geo' tag with its value as 'Chicago, IL'.  If instead you need a more precise location, you can set the 'Geo' tag value to an exact geo-coordinate, such as 41.888999, -87.642268, which will resolve to a precise address.  The map view is accessible by clicking the map icon on the upper left side of the Sensors view.
Tree View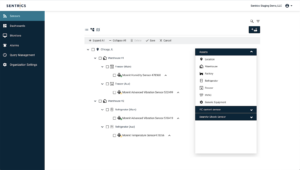 This has been added by popular demand.  The new tree view allows you to structure assets, equipment, and sensors.  This helps users visualize the layout in a hierarchical view instead of a flat list.  The view is accessible by clicking on the tree icon in the upper left view Options bar.  Once in the view, you can click the 'Edit' button to begin dragging and dropping items on the palette to the tree canvas.  When done editing the structure, you can click 'Save' to maintain this view. You can update the organization settings to set the default sensor layout to be 'List', 'Map', or 'Tree'.  The selected view will be shown by default each time you visit the Sensors page.
Dashboard Drag and Drop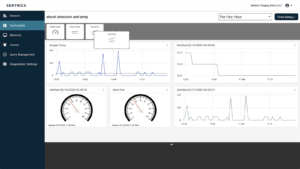 The dashboard view is now drag and drop enabled.  This makes organizing the existing dashboard easy to re-order and move graphs around.  To add a new graph, use the new palette at the top of the view to drag the graph to any place on the dashboard you choose.
New Integrations
We've added support for new hardware and software platforms to enable even more scenarios:
What's Ahead
We will continue to expand upon the multi-sensor approach that makes the platform simple, but powerful.   We look forward to building more capabilities to support the wide array of scenarios to help you monitor and improve your business.
If you have ideas or questions, please contact us at [email protected]